CLAN ROSS ASSOCIATION of CANADA, INC.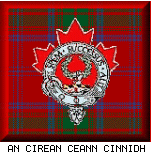 The "Family History Corner" reflects entries in the newsletter, which are printed on behalf of MEMBERS or VISITORS. Enquiries should meet the following criteria: (1) they should relate to a surname in the Clan Ross families, and (2) they should have some connection to Canada and (3) you should provide sufficient information to receive a reply.
If you have entries for the Family History Corner please submit them here for printing in the Newsletter and Website of the Clan Ross Associaton of Canada, Inc.

[CLICK HERE for the reference kit, which we have prepared if you require assistance with your Scottish Genealogy. The Clan Ross Association of Canada, Inc., does not have a genealogist on its staff, nor do we prepare genealogical charts.]
---
Please use the BACK BUTTON of your browser to return.

© Clan Ross Association of Canada, Inc.