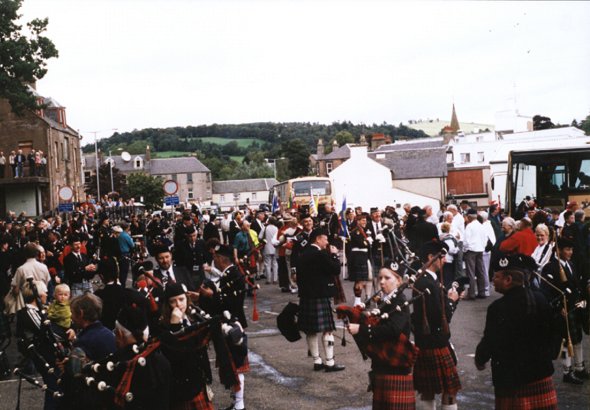 The massed band prepared for the march, and the supporters were bused to the site of the Blairgowrie Highland Games. The distance proved to be significantly further than the ten-minute walk suggested by one driver.
HIGHLAND GAMES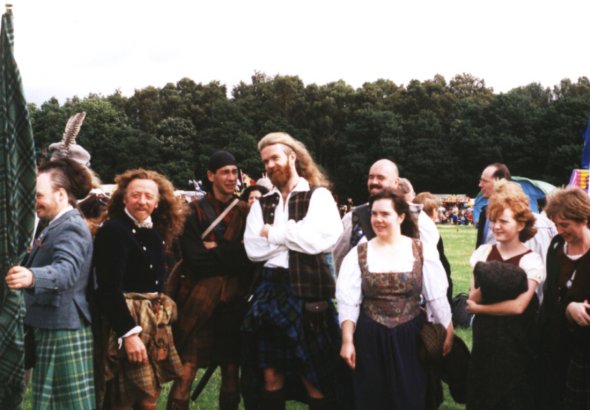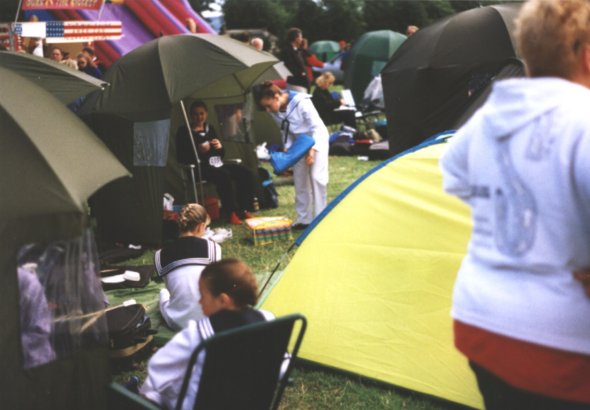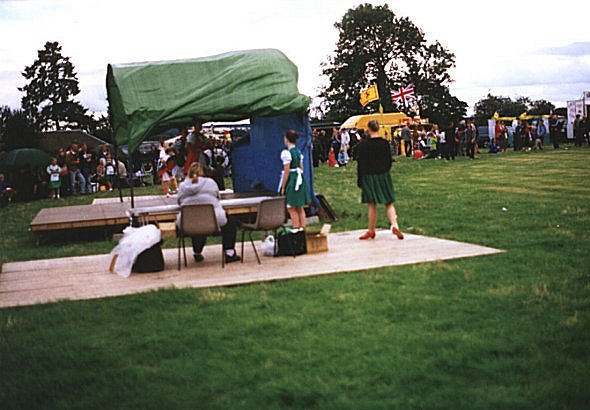 At one end of the field, Clan Currie (with Clan Commander Robert Currie of New Jersey) demonstrated how the Great Kilt is wrapped. At the other end of the field, dancing competitions continued all day. Only in the heavy events, were there women's and men's classes. A well-thrown hammer landed very close to a participant walking on the track, giving a few officials cause for concern. For most events, there was no discrimination; boys and girls participated together in the races for their age group. The tug-of-war provided excitement as neighbouring groups challenged each other.
AFTER THE OPENING CEREMONIES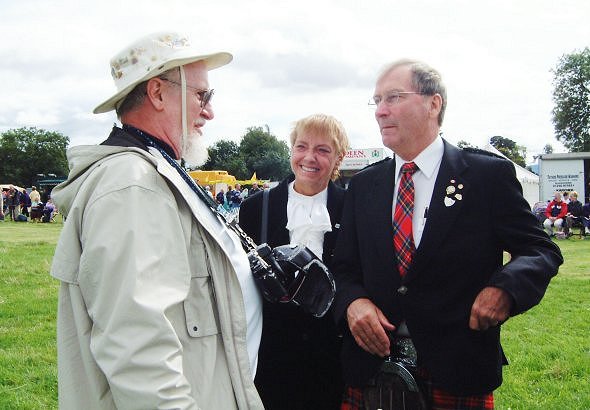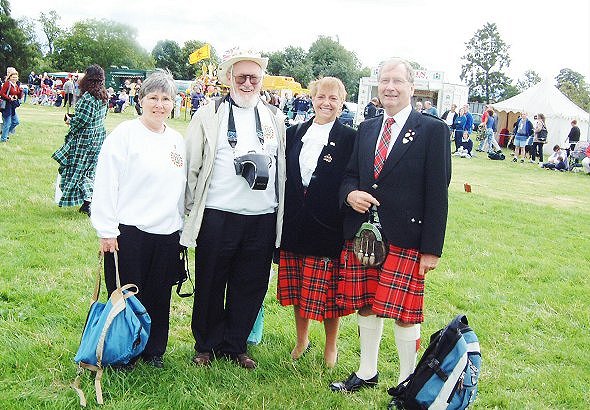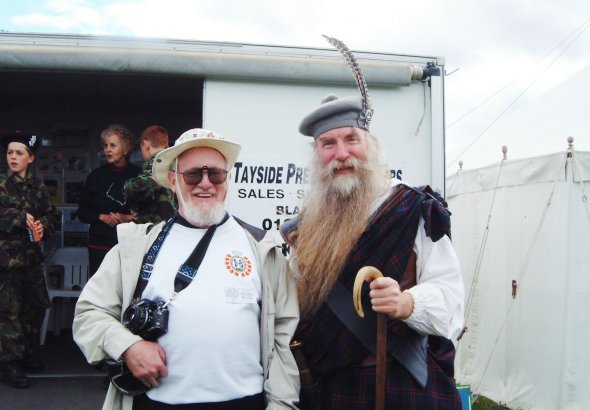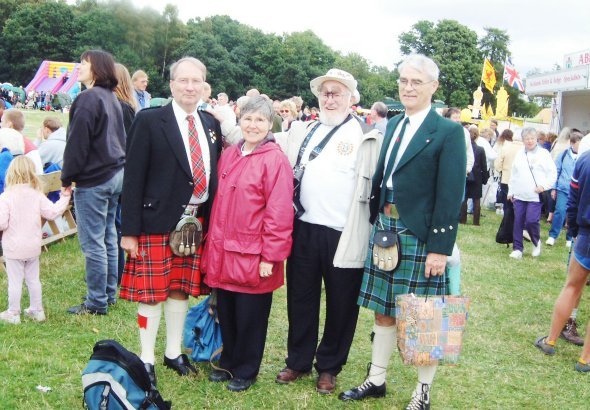 In September of 1995, a Proclamation of Twinning was signed between Fergus and Blairgowrie-Rattray. Since then, there have been many visits exchanged between the two towns. After the opening ceremonies, it was our pleasure to meet fellow Canadians, Mayor George Pinkney (Mayor of Centre Wellington) and his wife Dorothy. We discussed our visit to the Fergus Highland Games back on August 10 & 11, and Chairman Philip Nappi of the Twinning Association took a photo of the group. Later, Pat managed to take a picture of the Games Chief (Laurence Blair-Oliphant) and Doug as they stood in front of the booth for the Games' Secretary.

As the games progressed, Mrs. Dorothy Pinkney tapped Doug on the shoulder and said that somebody else from Fergus wanted to say hello. Donna and Don McAlpine had been asked by cousin Lloyd Ross of Fergus to get in touch with us if our paths crossed. We noted that another cousin, Donald Ross, was the Mayor of North Wellington. Another group photo was taken. What an enjoyable chance reunion so far from home!

We learned that Fergus is now also twinned with Pleasanton, California.
PERFORMANCE & PRESENTATIONS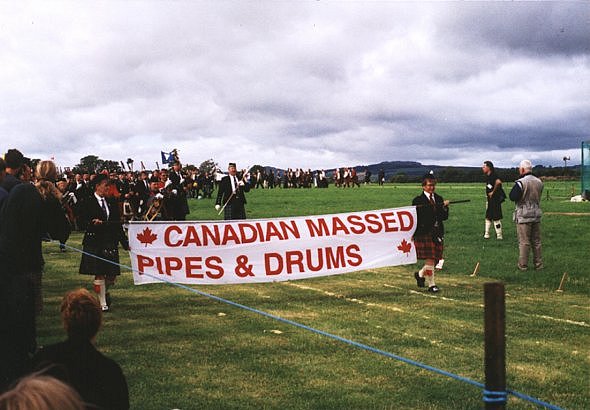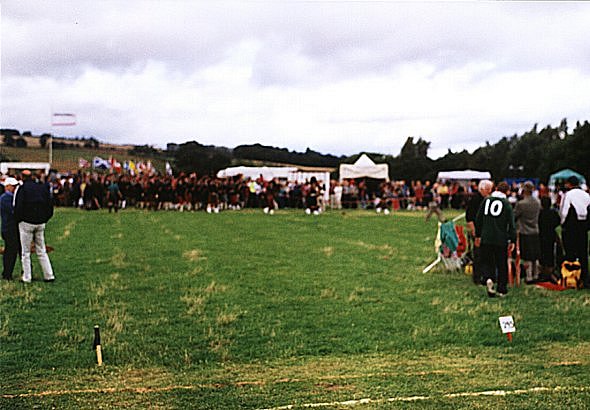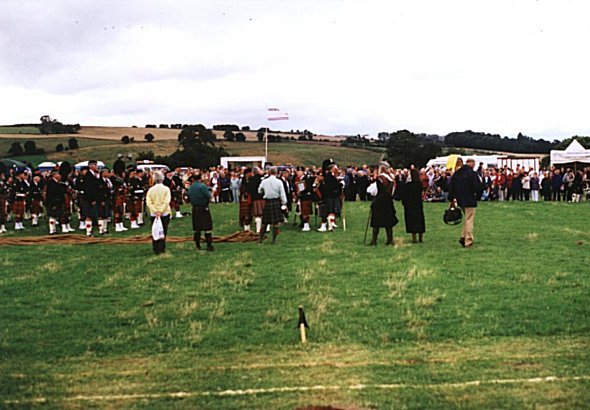 The Canadian Massed Pipes and Drums formed once again for a final performance in Scotland. The Chief of the Games met representatives from each of the bands and they exchanged presentations.
A FINAL PRESENTATION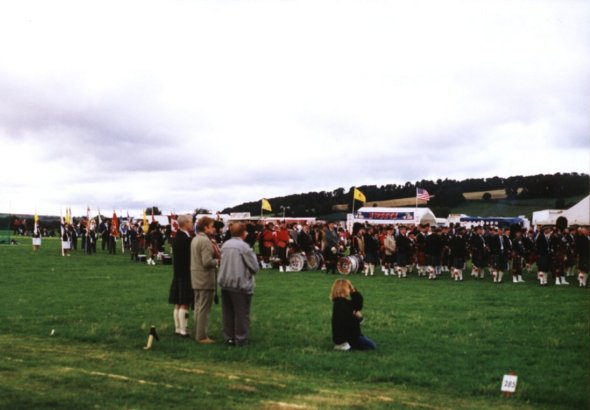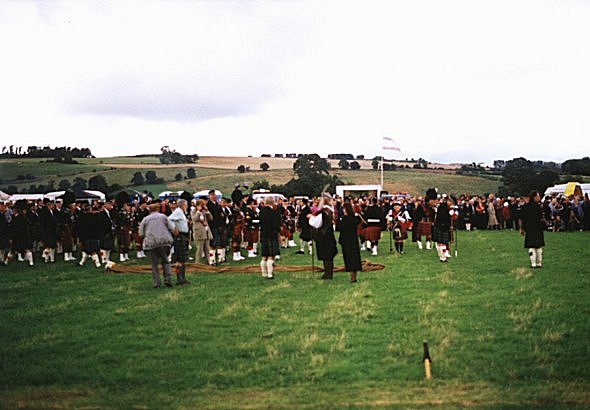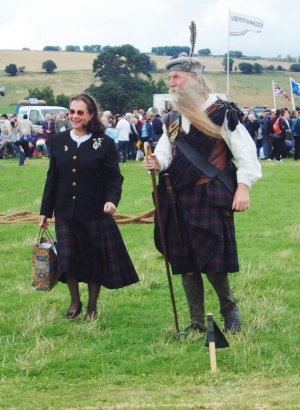 Mr. Philip Nappi waits at the side with Mayor George Pinkney and his wife Dorothy in the first picture. The final presentation is made between the twinned towns (middle photo) and Chief Laurence Blair-Oliphant of Ardblair retires from the field.