Click on the thumbnail photo to obtain a larger version.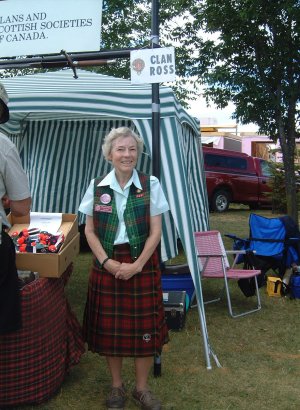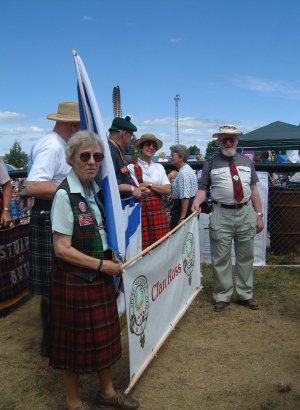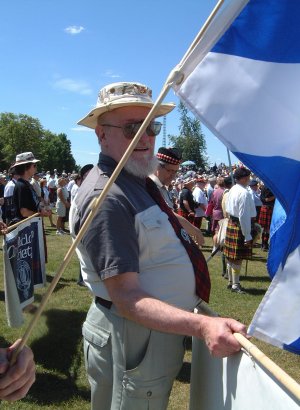 We searched over 40 tents along the Avenue of the Clans. Finally, we spotted the CASSOC (Clans and Scottish Societies of Canada) tent, which receives strong support from Wendy Ross, the Ontario Commissioner for the Clan Ross Association of Canada, Incorporated. She permitted another clan to use the assigned tent and posted the Clan Ross sign at the CASSOC site.

Although we were disappointed that many cousins from the area had failed to show, Clan Ross was represented at the Opening Ceremonies with Pat and Doug Ross holding the banner and Wendy Ross carrying the flag of Scotland. [All of us met a week later during the Scotland Tour 2001 with the Canadian Massed Pipes and Drums Band.]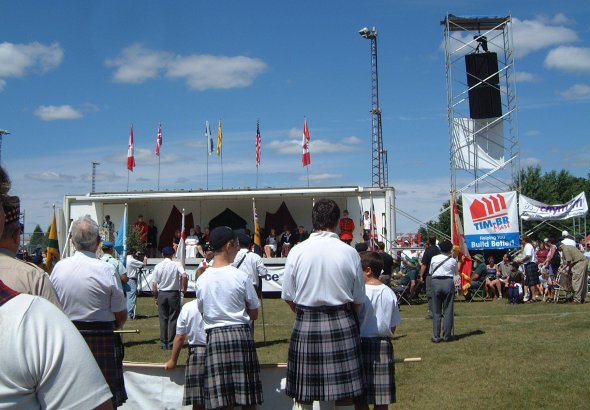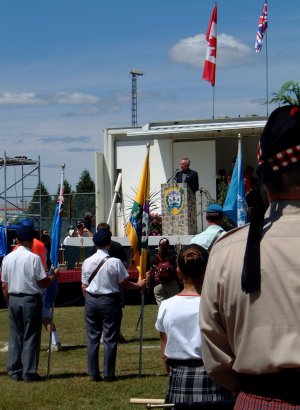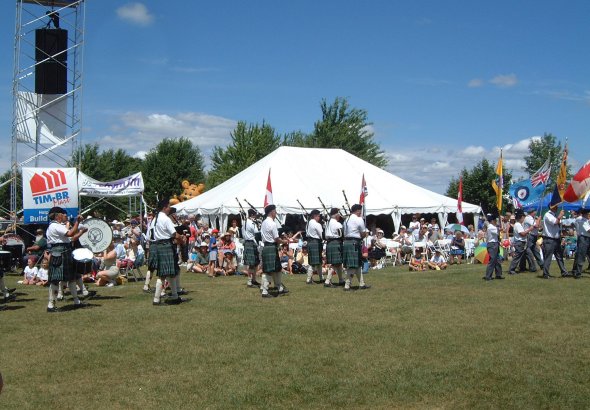 The government of the Township of Centre Wellington was represented by Mayor George Pinkney, who welcomed special visitors from Fergus' twinned city of Pleasanton, California, who were seated on stage. [On September 2, we were present when the mayor and his wife Dorothy performed a similar function as guests at the Blairgowrie Highland Games in Scotland. Blairgowrie is another city which is twinned with Fergus, Ontario.]

Renowned Scottish author, David Ross, whom Doug met earlier on the Avenue of Clans with his daughter, where he was talking about Scottish history and his publications (the Trail of the Bruce and the Trail of the Wallace in the Children's Movie and Reading Area, was also among the honoured guests on the stage.

Representing the Federal Government, Opposition Leader Joe Clark (centre photo) addressed the crowd. In this Year of the Volunteer, Colonel Hugh Parkhill Stewart CD was also an honoured guest for his involvement with the Fergus Scottish Festival and Highland Games.