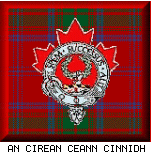 David Campbell Ross of Ross and Balnagowan, Chief
. . . recognizes and endorses the following societies of Clan Ross membership. NOTE: No individual Clan Ross society has been granted any right to represent Clan Ross societies "around the world" OR to represent itself as THE "Clan Ross Association". These privileges of representation belong to the chief of Clan Ross.


---
CLAN ROSS SOCIETIES




Clan Ross Australia
founded August 3, 1999
Website: http://www.ClanRossAustralia.webs.com

Annette Ross, Main Contact
37 Boundary Road
Pennant Hills 2120 NSW Australia
Phone: 029 875 2169
Email:clanross@hotmail.com.au






Clan Ross Association of Canada, Inc.
founded 1960 ... incorporated 1991
[See list of Officers and Commissioners at this internet site.]
WebSite: http://www.GreatClanRoss.org

Barbara Fletcher, Membership
66 Crestwood Crescent
Winnipeg, Manitoba R2J 1H6







Clan Ross Netherlands
George Ross, Commissioner
Email:georgeross@home.nl
George and Wil Ross, Newsletter

WebSite: http://www.clan-ross.nl
David C. H. Ross, Secretary & Information
Email:davidross@home.nl





Clan Ross New Zealand
In 1983, Mr. W. Hugh Ross of Wanganui, NZ, was asked by Dr. John Robert Ross, then President of CRA-Canada, to volunteer as the representative of Clan Ross in New Zealand. Shortly afterwards, Chief David Ross of Ross and Shandwick formally requested Hugh to become the Commissioner.

John W. Ross, President
21 Christian Street
Dannevirke 4930, New Zealand

Website: Clan Ross Association of New Zealand
Felicity Woodfield, Secretary
2 Severn Place
New Plymouth 4601, New Zealand
Email: clanrossnz@ihug.co.nz





ClanRossAmerica

ClanRossAmerica is the resulting organization of the folding of the Clan Ross Association of the United States, Inc. (founded 1976 ... incorporated 1982) into the Clan Ross Foundation in 2013.

WebSite: http://www.clanross.org/

Robert Aumiller, Membership Secretary
cramembership@sbcglobal.net

---

© Clan Ross Association of Canada, Inc.