CLAN ROSS ASSOCIATION of CANADA, INC.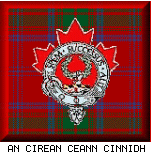 This page is created for Ross/Ross Sept families which hold annual reunions on a regular basis. The date and location should be as specific as possible. Contacts and other particulars are also important. Information about the families in attendance is welcomed.

Members who have entries for the Family Reunions Page should submit them to the editors of the Clan Ross Associaton of Canada, Inc., newsletter.



---
FAMILY REUNION PAGE
First Monday in August - Holstein, Ontario
The five surviving branches, descended from Alexander Ross and Margaret Noble, have held a reunion every year since 1929, with the exception of a couple during WWII. A map and further details about the 70th Annual Reunion in 2000 will serve as an example for the event.
July 28, 29, 30, 2006, in Seaforth, Ontario.
This is a follow-up to the first reunion held in 2001 in Basswood, Manitoba, for the descendants of Alexander Ross and Sarah Fraser who left Glengarry County, Ontario, around 1850 to settle in Perth County, Ontario, in the Amulree/Stratford area. Alexander (aka William Alexander Ross) was born around 1804 in Glengarry County. His parents are understood to be Alexander Ross and Mary McLean, and his grandparents were Thomas Taylor Ross and Isabella.

Ed. Note: This is not expected to become an annual reunion.
Contact: Jean Hillen in Stratford. Phone: 519-271-1516. Email: jrhillen@rogers.com