Ross Memorial Chair - Victoria, BC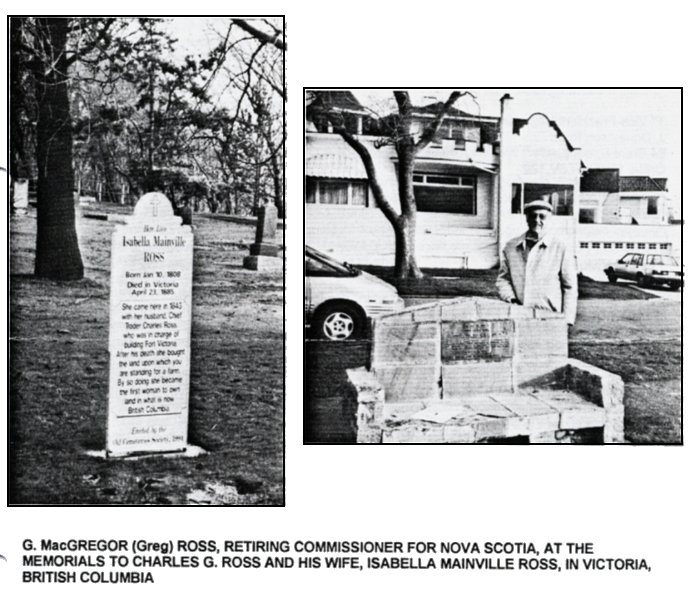 ROSS PIONEERS ON VANCOUVER ISLAND
- compiled by the editor from material supplied by Greg & Katie Ross,
with commentary by Al Reeder of Sacremento


Charles George Ross, in a 1967 article in "The Bay News", is described as "Victoria's Forgotten Man". He was named a Chief Trader of the Hudson's Bay Company when he arrived on June 7,1843 to take charge of the then under construction Fort Victoria (which became the City of Victoria, provincial capital of British Columbia). He died only a year later at the age of 50, with the location of his final grave unknown.

As recently as a 1977 article in "The Victorian", Ross is distinguished only as the first white man to die on Vancouver Island. Some investigation does reveal that although not much is known of his life, what is known is quite fascinating, especially the effects of living in the wilderness... cut off from the world. His wife, Isabella Mainville Ross, is described as the first white woman on Vancouver Island. Hopefully we are somewhat more enlightened today and can acknowledge that Isabella, as well as being a capable person... the first woman to own property in what is now British Columbia... was of half North American Indian descent. In an 1843 letter to his sister at Guelph in Upper Canada (Ontario), Charles proudly states, "I have as yet said nothing about my wife; whence you will probably infer that I am rather ashamed of her -in this, however, you would be wrong. She is not, indeed, exactly fitted to shine at the head of a nobleman's table, but she suits the sphere [in which) she has to move much better than any such toy - in short, she is a native of the country..."

Charles G. Ross was bom at Kingcraig near Inverness, in Ross-shire, in 1794. He joined the Hudson's Bay Company in 1818, arriving by boat from York Factory on Hudson's Bay to be clerk at Norway House (north shore of Lake Winnipeg in Manitoba). In 1822 he married Isabella, apparently at Rainy Lake (Lac Ia Pluie) in northwest Ontario. This was on the main overland supply route from Montreal to the northwest. He crossed the Rocky Mountains in 1824 and was clerk at various fur-trading posts in what was then called New Caledonia, now British Columbia.

In 1828 he was at Fort George in the Fraser River where the growing city of Prince George stands today. Five years earlier, the entire habitation had been killed by Indians. In 1838 he was clerk at Fort McLoughlin on the northeast coast of Vancouver Island. Sir George Simpson, Governor of the Company, noted only that "Mr. Charles Ross had made considerable additions to the garden... with a soil principally formed of seaweed...". This was a survival skill common to those from the coastal areas of Scotland. His wife fared much better in Simpson's journal. He wrote: "the wife of Mr. Ross of this fort lately displayed great courage. Some Indians, while trading, in her husband's absence with her son in the shop of the establishment drew their knives upon the boy. On hearing this, the lady, pike in hand, chased the cowardly rascals from post to pillar till she drove them out of the fort. 'If such are the white women', said the discomfited savages, 'what must the white men be?'"

In his 1843 letter to his sister, Charles outlines his concern about not being able to properly raise his large family in the wilderness: "I am blessed with a family of nine children, that is, five boys and four girls... which I dare say will astonish you - this numerous progeny is for the present rather an encumbrance --- my chief regret is their growing wild around me without proper education or example -so long as we remain in this unchristian wild. Than our way of life in this dreary wilderness nothing can be more dark and insipid. The posts we occupy are far between and seldom have any intercourse with each other oftener than once a year... there is no society... P.S. I would perhaps send down [to Ontario] my two eldest boys... if I thought they could prepare a place for the rest of us to follow... What funds would be required to... buy and stock 200 acres?"

Charles never realized his dream of moving his family to civilization, although some of his children were sent to England for schooling. When Fort McLoughlin was closed, as senior officer he was sent to take charge of the new Fort Victoria, where he died of a sudden illness on June 28,1844. He had not even received a reply to the letter to his sister. Because it took a year to communicate over the Rockies, her reply did not arrive until 1845! He was buried in the Company's old cemetery, near the present Johnson Street. The remains were probably removed to Quadra Street Cemetery beside the Anglican Cathedral, but this cannot be verified. There is no tombstone in the cemetery but there is a memorial stone in Pioneer Cemetery Square.

His widow, Isabella, then acquired a strip of "10 arable acres" between Foul Bay and Shoal Bay where she grew potatoes for the Fort. The bulk of these were peddled to the Russians at Sitka (in what is now Alaska) for furs. She lived another 41 years and died on April 23,1885 in her 78th year. She is buried in Ross Cemetery, named after her as it was developed from land she donated which had been part of her farm overlooking Ross Bay, which was named after husband. In 1967, as a project for Canada's Centennial, the Native Sons of British Columbia constructed a commemorative granite and slate seat honouring Charles G. Ross. It is located on Dallas Marine Drive East, also overlooking Ross Bay.


CRA-Canada Newsletter: November, 1999.