CLAN ROSS ASSOCIATION OF CANADA, INC. - MEMBERSHIP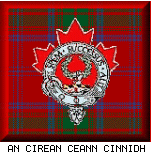 Whether you are a member or not, the very fact that you visited this page indicates that you have a strong interest in your Scottish heritage. Members of the Clan Ross Association of Canada may be accused of being "clannish" in the sense of forming a special bond ... through


an interest in our past,
participation in current activities or events, or
sharing in our goals and objectives for the future.
Whether you are a "new member" or a "veteran", you will discover that we have a broad spectrum of interests in common with each other. A member of the executive recently remarked, "This association is neither cliquish nor snobbish. We're a friendly bunch!" In fact, the Clan Ross Association of Canada is looking for a person with your precise qualities and talents to fill a vacancy right now ...


as a contributor to the newsletter,
as an assistant at a Ross tent during Highland Games and other events in your area,
as a person who is highly motivated to learn more about the Clan Ross,
as one who wants to preserve a family tree or a family history,
as one who wishes to promote our Scottish heritage in a "hands-on" fashion, or
as someone who enjoys the uniqueness of Scottish humour ... and much more.
---
Click here if you wish to fill out your Clan Ross Association of Canada - Membership Application Form now.
NOTE 1: You don't need to be a Canadian citizen to become a member of the oldest Clan Ross Society in continuous existence.
NOTE 2: Fees include a spouse and all children under 18 years of age.
NOTE 3: Fiscal Policies in Force, Clan Ross - Canada (dated June 2004):
- Membership applications dated before Sept 1 are for that Calendar Year. Applications/payments dated after Sept 1 cover the following year;
- Renewals are due January 1 for the calendar year;
- Membership shall lapse after one year of non-payment.
NOTE 4: Postal rates play a significant part in the calculation of membership fees. As of January 1, 2006, fees for American members will be US$21.00. Fees for members with Canadian addresses will be CAN$15.00.
NOTE 5: Don't forget to use the BACK button of your Browser to return to this page after you print out your form.
NOTE 6: Members with internet service are encouraged to advise our newsletter mailer to send their newsletters by email. Past issues are still posted at Electric Scotland.
---
WHAT DOES YOUR MEMBERSHIP FEE PROVIDE?
First and foremost, it provides you with a first-class quarterly newsletter. That, in itself, is worth every penny of your fee!
Our members-only webpage provides a link to some earlier newsletters, which you missed.
A gratuity of $100 was approved in 2007 for the internet server of the Clan Ross - Canada website. For 7 years, including its introduction at the 2000 AGM, the website and its domain name registration fee have been provided free-of-charge with our thanks, by the webmaster's daughter.
Materials are provided for the successful operation of Clan Ross exhibits at Highland Games and other events.
Weatherproof "Clan Ross Association of Canada, Inc." banners have been distributed to the Provincial Chapters for prominent display.
A small part of your membership fee occasionally funds pledges to seed worthwhile projects across this great nation (second largest in the world) from Sea to Sea to Sea.
It provides Honorary Memberships to those who have volunteered their time and have given exceptional service to the association for many years.
Members of CRA-CANADA are encouraged to attend Scottish events in their area of the country and can be sponsored for membership in other Scottish organizations.
Members are given the opportunity to participate at a private forum provided to the Clan Ross Association of Canada by the Electric Scotland Community. There will be no additional cost to yourself.
Following our 50th Anniversary, all members have been able to access links to Facebook and YouTube pages for Clan Ross Canada.
Your fee also helps you to achieve everything that has been mentioned earlier on this page.
---
Click here if you are finally convinced that you want to fill out your Clan Ross Association of Canada - Membership Form. NOTE: Don't forget to use the BACK button of your Browser to return to this page after you print out your form.
---