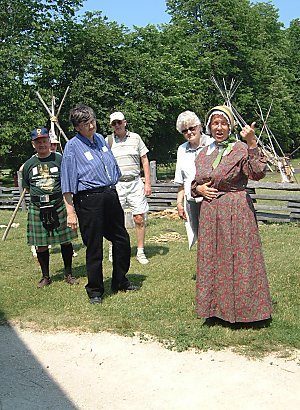 Mrs. Ross of the Ross Cottage
Our guide, "Mrs. Ross", led the group to the various areas outside the walls of the fort. She did her best to stay in character until she departed after we entered the fort itself. The Ross Cottage, as it was known in the 1850's, was built by the HBC to house long-term guests at the fort. The areas inside the fort included the Big House, the Retail Store, the Furloft, the Men's/Tradesmen's House, the Warehouse, Doctor's Office and a Bakery (in the Northwest Bastion).

Use your BACK button to return.