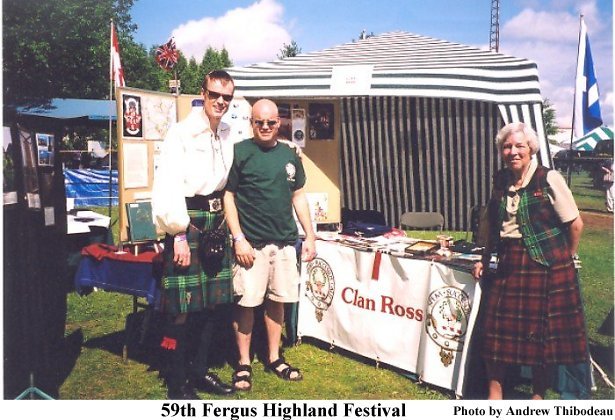 The Ross Tent

From left to right, Andrew Thibodeau (2nd Vice President), his brother Jason Thibodeau and Wendy Ross (Ontario Commissioner) stand in front of the Ross tent, one of the 57 tents participating. Over 50 people signed the Clan Ross guestbook, not to mention many others who just stopped to chat. Andrew, who has visited Scotland three times since 1997, says that one advantage to experiencing Scotland at the festivals is that it's cheaper. "You can eat well for $5 at the games. In Scotland $5 can get you ...a cup of coffee."

Next year Andy, his wife Elizabeth and Wendy plan on being in Fergus again. Since his hometown of London is hosting the national CRA-Canada AGM in 2006, they would like to meet members in Fergus next year. Check your newsletters for details.

Use your BACK button to return.