MANITOBA LEGISLATIVE BUILDING

Sunday, August 5

You may click on any thumbnail photo to obtain a larger version.



Memorial Boulevard proceeds directly north from the Legislative building. In 1961, the City of Winnipeg signed over to the province 4.5 acres of land it already owned along Memorial Boulevard. The province combined that with land that it owned, the original University of Manitoba campus, across from the Legislature. On 28 September 1962, the Park and City Hydro Fountain were dedicated by Premier Duff Roblin.

It was the sphinx below the "Golden Boy" that first caught the eye of Frank Albo, our guide on this tour but, more importantly, he realized later that the bronze bison on the Grand Staircase represented the sacred bulls which guarded temples in the Near East of ancient times. He noted that one sphinx faces east and one faces west . . . towards the rising and setting sun. Turning to pages 88 and 89 of The Hermetic Code written by Carolin Vesely and Buzz Currie, which was based upon his work, Frank translates the hieroglyphs beneath the chin of the sphinx to read The everlasting manifestation of the sun god Ra, the good god who gives life.

There may be no better place to insert a unique photo of the Legislative Building taken from a tour boat on the Assiniboine River after our AGM. A statue of Louis Riel by Manitoba-born sculptor Miguel-Joyal was erected in 1996 to replace a controversial one located on this same site for twenty-three years. This more recent statue of Riel shows him holding the Manitoba Act which established the province in 1870.







Seated in the centre of the figures above the entrance is a lady of some importance resembling goddesses Ishtar or Demeter with the rays of the sun behind her. But who is this lady?

To her left are (1) an Indolent Man with a half-kneeling female Spirit of Progress beckoning him into the new land of promise, (2) the goddess Europa leading a bull symbolizing Canada's European heritage and immigration, and (3) a family symbolizing the colonization of a new land.

On the right side are (1) a man and a woman laden with products of the soil . . . wheat and fruit, (2) a strong male with horses and a plough to till the soil, and (3) entwined figures representing the Red and Assiniboine Rivers.







But who is the lady of importance seated in the centre? Frank Albo, determined to give us a physical workout, instructed us to go down the steps to the grassy area and take 13 steps forward. When we turn around, the identity of the lady will become apparent. Aha! It is Lady Manitoba!







Frank tells the group that Premier Gary Doer became interested in his project and gave him "the run of the place". This led to several interesting situations with security personnel, including one time at might when he was wearing his pyjamas. Frank referred frequently to the book as he explained the concept of a sacred geometry, which the Freemasons believe to be a sacred science handed down by God. One of his discoveries was that most of Manitoba's premiers were Freemasons.

As he continues his talk, Frank suggests that we suspend our process of logical thinking and observe the mystical elements around us. As he states . . . he is about to lead us down a rabbit hole. And like Alice followed the white rabbit down the rabbit hole in Alice in Wonderland, we tag along to discover the next revelation on the east side of the building. [The phrase appeared on page 4 of the book.]







Frank drew our attention to the very top of the Legislative Building, where the figure of the "Golden Boy" stands pointing towards the north. In reality, he states, this is the Greek god Hermes (or the equivalent of the Roman god Mercury) who was the messenger of the gods and the god of commerce or trade.

Immediately above the door is a war chest flanked by statues of an Indian chief in full headdress and a soldier with a plumed helmet. This chest has the same proportions as the Ark of the Covenant. In King Solomon's temple, the Ark of the Covenant was associated with a sacred room . . . all of which was designed by masons to protect the Ark. The tour group is asked to remember what they see here. It will have some bearing upon a special room within this temple created for Manitoba.







Before the tour group entered the Manitoba Legislative Building, Frank suggested that we use the opportunity to have our photo taken in the sunshine.





In the ABC's of temple building, the masons construct three important areas: the room of protection, the sanctuary with an altar, and the most important Holy of Holies. The Grand Staircase occupies a perfect square of 66.6 feet on each side and has three flights of 13 steps. Frank has already pointed out the significance of the number sequence 3, 5, 8, 13 (the Fibonacci series) . . . in Masonic principles. The number 666 was assigned to the sun god in 1509 by Cornelius Agrippa.

Icons in this lobby meant to ward off evil include lion heads, cattle skulls and the bust of Athena facing a bust of Medusa as well as the two bison at the entrance. A photo sent by Ian Ross in 2011 illustrates the appearance before the repairs were started. Andy's picture shows the view of one bison under current conditions.







Here is the sanctuary with an altar. When Frank gave his first tour, he checked a 1925 guidebook and was told not to mention its contents about the room. It stated: There should be an Altar here, and a Priest, and the image of a god, and a victim, and a curved knife, and a circle of white-robed worshipers around the outer edge of the Pool, and the victim should be on the altar and the curved knife should flash; the floor is stained; dull red stains are trickling through the black veins of the marble.

The Black Star below is perfectly placed for a sacrifice. It is directly below the dome supporting Hermes. Gasp!

[Note: The tour group also learned a wee bit about the mural by Frank Brangwyn, which is on the south wall. It is the subject of Chapter 10 in The Hermetic Code. Part of the mural may be seen in the fourth photo below.]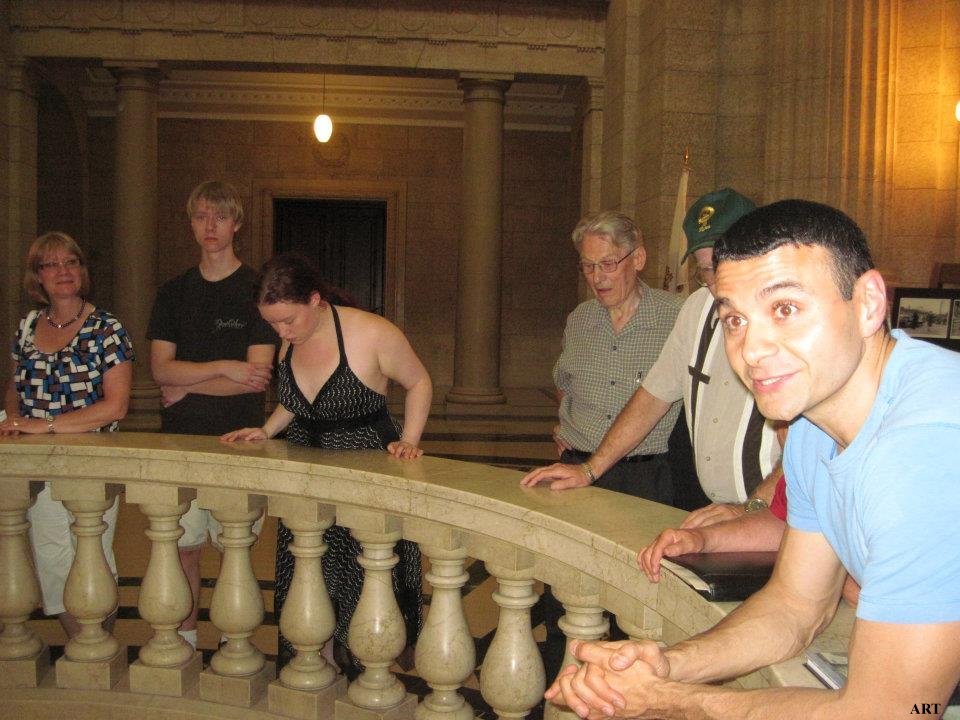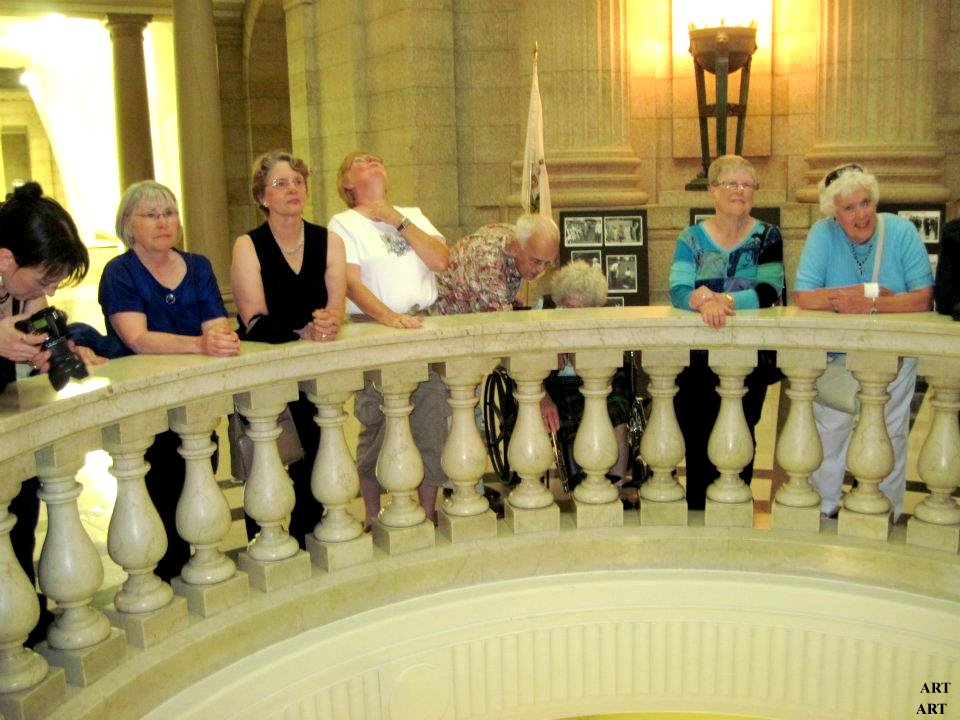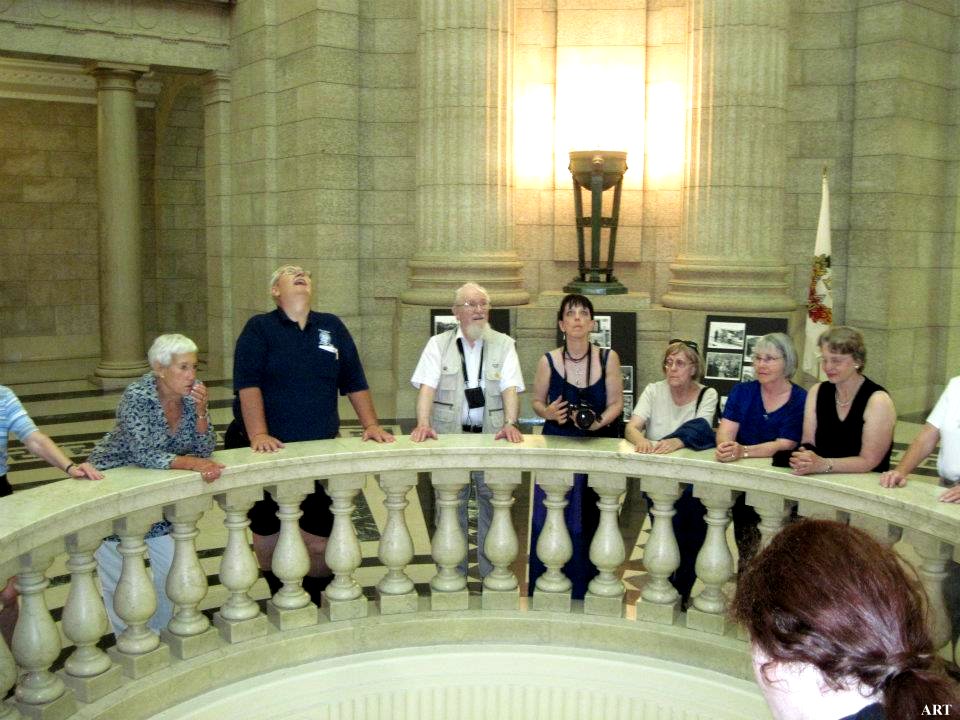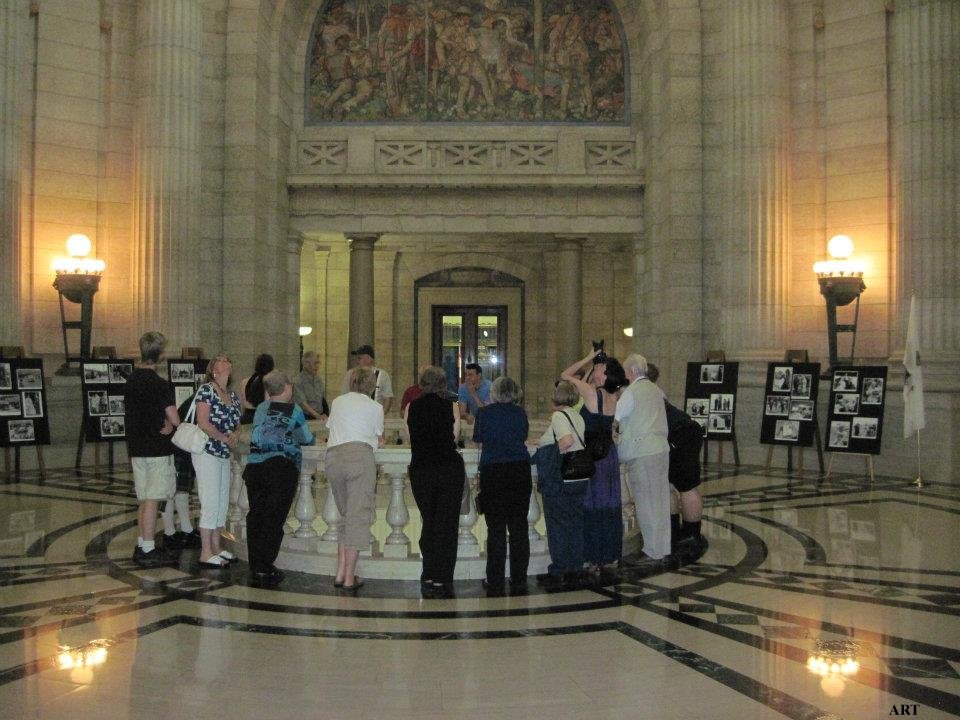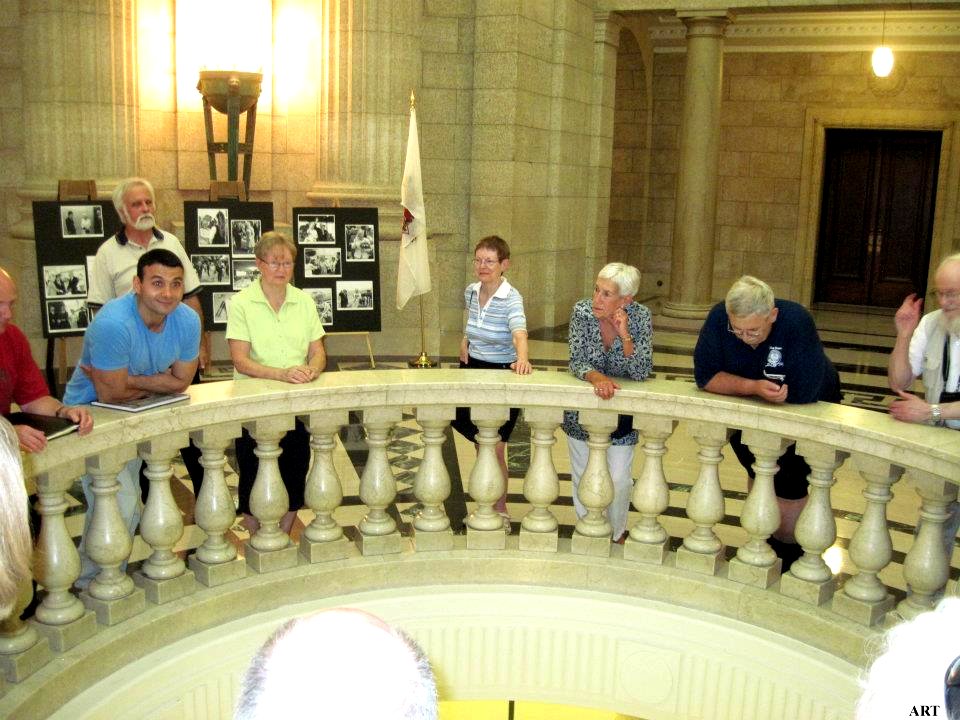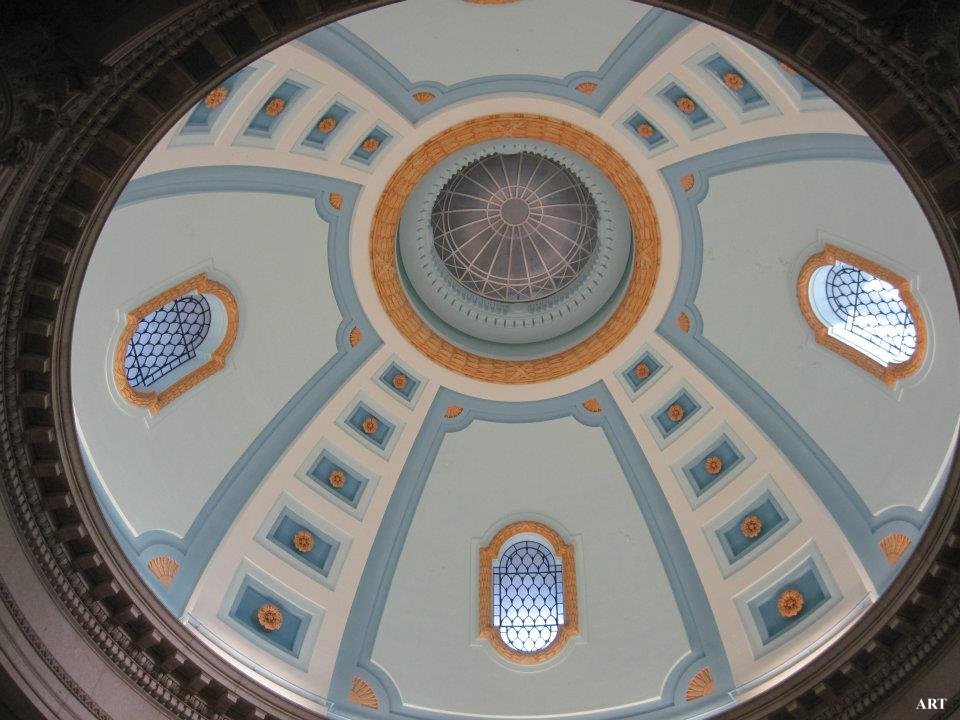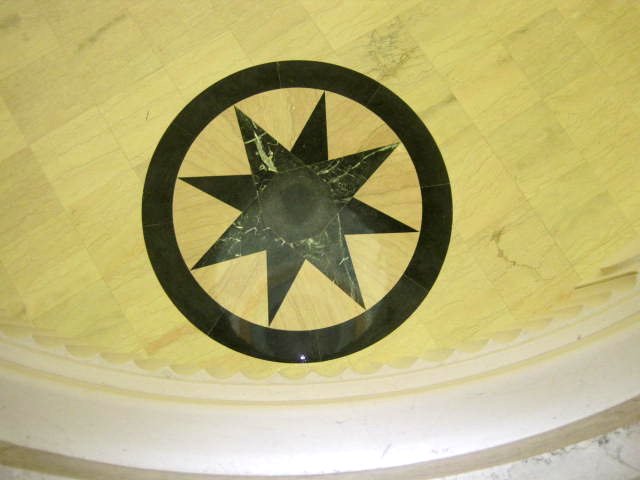 Lamp standards in the rotunda of the Pool of the Black Star have two faces, a male and a female, beneath the globe. The hermaphrodite (i.e. offspring of Hermes and Aphrodite) is an important symbol in alchemical works. Note the hooved feet on the bases, which suggest Pan as the son of Hermes.

Members were asked to stand in the centre of the black star and make a statement in 5, 8, or 13 words. A person's voice changes and seems to echo. It is said that wishes made here will come true. For the past several years, Frank has been saying, "Bring back the Winnipeg Jets." A year ago it came true.

I waited until most tour members had left the room before I took a turn standing in the centre. My five words were: "Balderdash! Balderdash! Balderdash! Balderdash! Balderdash!"
Finally we have arrived at the "Holy of Holies" . . . a room which is opened only once per year, and only entered by the Lieutenant-Governor and Royalty to sign documents into law. To the right is a chair which has only been sat upon by royalty and there is a plaque for each time. To the left is the area used by the Lieutenant-Governor. Beyond the blue drapes at the window lies the War Chest, a representation of the Ark of the Covenant. [Remember?]

What a tour! Several members purchase the book for $25.00 and a few request Frank's autograph.
---
GASTHAUS GUTENBURGER
Our tour of the Manitoba Legislative Building was followed by a group dinner at Gasthaus Gutenburger, an authentic 4-star German restaurant. Chef Kurt laid out family-style platters of a variety of schnitzels, sauerkraut, red cabbage, spatzle noodles and breads, with a choice of soup or salad. Of course they had German wine and draft beer! This was be followed by our return to the Norwood Hotel.
---
PROCEED TO
the Monday trip to Gimli and Viking Battle before lunch at Sandy Nook.
RETURN TO
the Saturday Arrival and Reception.