65th Fergus Scottish Festival - 2010

Click on any photo to obtain a larger version.
Introduction
Clan Ross - Canada, celebrating the 50th Anniversary of its founding, was selected as the featured Clan this year, which is the 65th Anniversary of the Fergus Scottish Festival and Highland Games. The latter were created by Alex Robertson in 1946 as a community wide celebration of Scottish life and customs. Since then the Festival has grown to proudly earn the title of the oldest and largest 3-day Scottish Festival in North America attracting over 28,000 visitors and is listed as one of the top 100 festivals in Ontario. [A close competitor, the world class Glengarry Highland Games held in Maxville since 1948 claims to attract hundreds of thousands of people each year to witness more than 60 pipe bands competing for the North American Pipe Band Championships and over 200 dancers defying gravity in the Highland Dance competition. The Heavy Events are also quite memorable.]

Once again, Pat and I spent a couple of enjoyable evenings with Dorothy and George Collin at their Bed and Breakfast. None of their usual guests made reservations this year. Dorothy was scheduled for pottery demonstrations in the Heritage Tent at the Festival, and Pat opted to sleep in on Saturday morning. George made me an omlette sandwich and coffee to take for breakfast, because I needed to secure a parking space behind the Clan Ross Tent in order to deliver the Clan Passport booklets; I also had a load of Scottish Studies Foundation material for Dr. Graeme Morton at the Genealogy & Education Centre.
Map of the Festival Site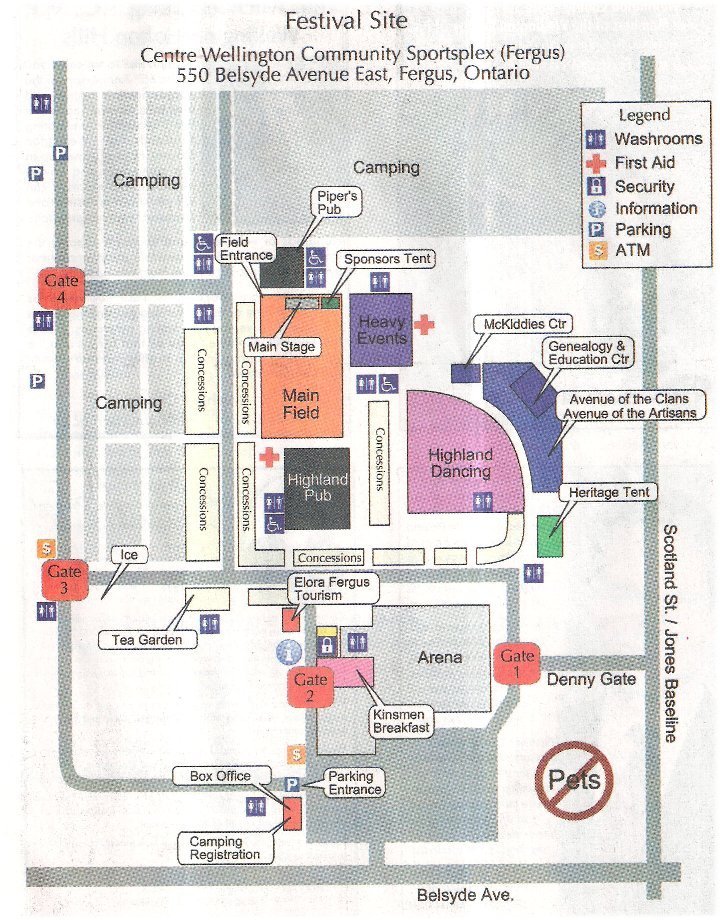 MENU
Friday

Reception And Tattoo
Saturday

[Kirkin' O' The Tartan at St. Andrew's Presbyterian Church - 10am]

CREDITS FOR PHOTOS
Please check the bottom right corner of the pictures to locate the source of the pictures. Most thumbnails may be CLICKED to obtain a larger picture. Try a second CLICK for the largest size.
* AM = Alastair McIntyre, FSA Scot, KCTJ. Owner of the Electric Scotland website.
* ART = Andrew Ross Thibodeau. President of the Clan Ross Association of Canada, Inc.
* DB = Debra Louise Barry. Commissioner for Quebec (Clan Ross - Canada).
* NRH = Nancy Ross-Hill and Rowland Hill, Members of Clan Ross - Canada
* PAT = Dr. Patricia Dianne Ross. Newsletter Editor for Clan Ross - Canada
* RR = Robert Ross. Member of Clan Ross - Canada.
* TIM = Tim Veal, son of Janette Veal, Member of Clan Ross - Canada
* VAL = Dr. Valerie-Dawn and Rev. John Girhiny. Members & Special Guests of Clan Ross - Canada
* (no mark) = J. Douglas Ross, FSA Scot. Webmaster for Clan Ross - Canada (reception & tattoo)
NOTE
: It is the policy of the Clan Ross - Canada website that all materials are used with the permission of the owners and that such materials shall remain their property. Furthermore, everything contained herein is covered by International Copyright regulations. If, at any time, we are notified that permission to use material has not been intended, such material will be removed from display on this website.