Click on the thumbnail photo to obtain a larger version.
---


Our Ontario Commissioner, Wendy Ross, merits an honourable mention for her representation of Clan Ross - Canada across Ontario and Quebec. After the Embro Highland Games on Canada Day (July 1), you will note her participation at the 8th Annual Kincardine Festival and Highland Games (July 6-8 in the menu). At the beginning of August she made her annual Saturday trip to Maxville for the 60th anniversary Glengarry Highland Games . . . followed on Sunday by the 30th Montreal Highland Games. Thanks to 1st Vice-president Andrew Ross Thibodeau for the first picture below at Fergus and to Bob Ross of Halifax for the second photo (at Glamis Castle in Scotland).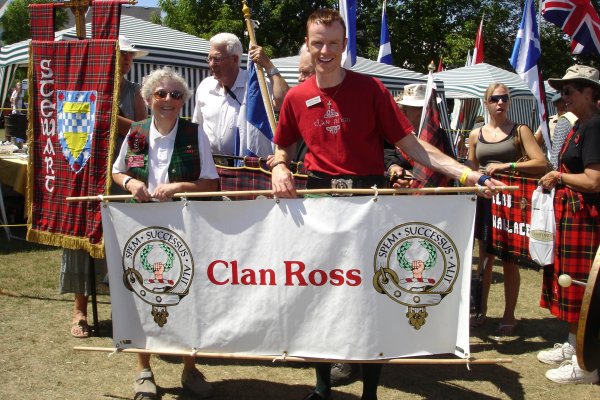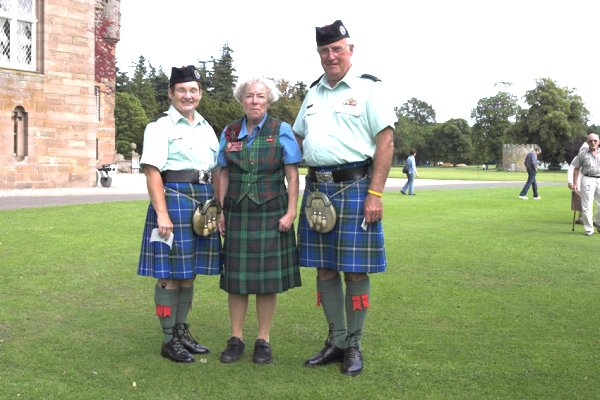 Wendy was on hand to assist Andrew to carry the banner into the stadium at the 62nd Annual Fergus Scottish Festival and Highland Games. Later in August, Wendy met Brenda and Bob Ross of Halifax at Glamis Castle during the tour of Scotland with the Canadian Massed Pipes and Drums in spite of the 'guid Scottish mist'; Brenda and Bob are members of the 33 Service Battalion Pipes and Drums of Halifax.

As our Clan Ross - Canada delegate to CASSOC (Clans and Scottish Societies of Canada), Wendy reported that our clan gathering will be held in Cape Breton in 2008, in Vancouver in 2010, and that we are working on going to the 2009 Gathering in Scotland.

THANK YOU WENDY!

---