Click on the photo to obtain a larger version.
Maplecrest Farm B&B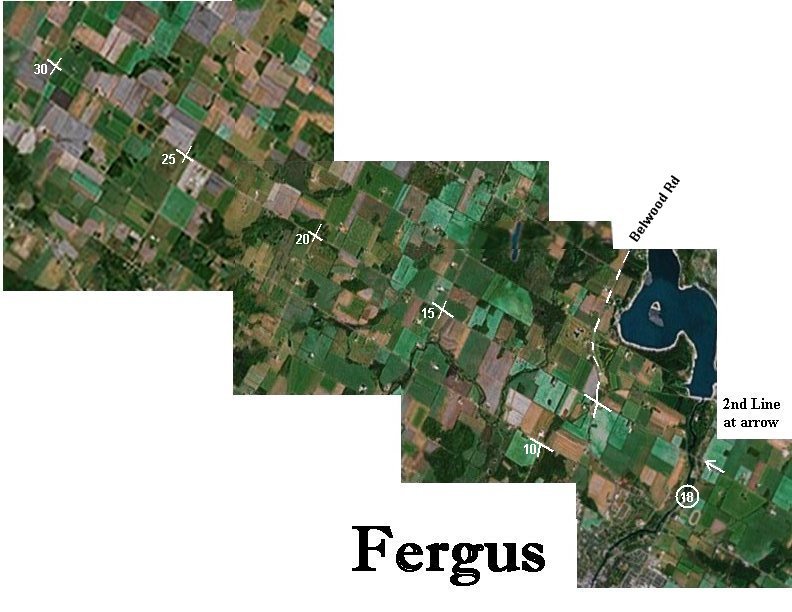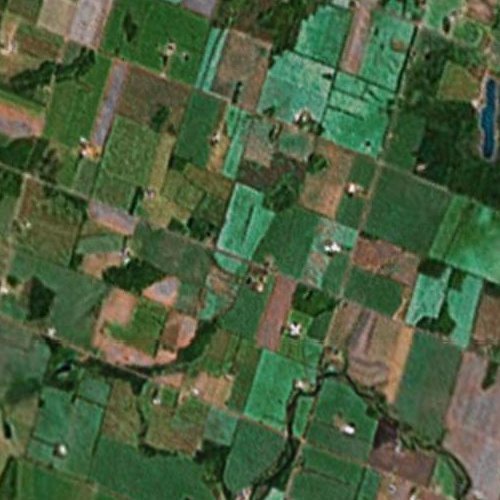 Once again, Pat and I spent an enjoyable weekend with Dorothy and George Collin at their Bed and Breakfast. Last year, I copied a photo of the property which was taken from a helicopter. This year, I located the site using satellite technology in the Google Earth programme. Maplecrest Farm B&B is centred in the picture above right (on the 2nd Line just west of the 15th Concession road).

Below, other guests this year were from Pennsylvania. They were enjoying the Fergus Scottish Festival as part of a vacation in Ontario.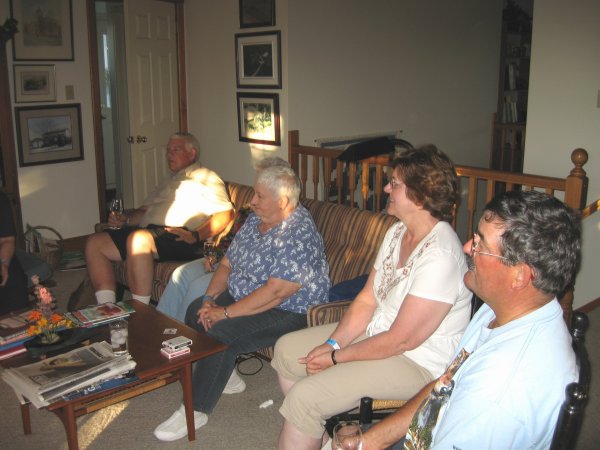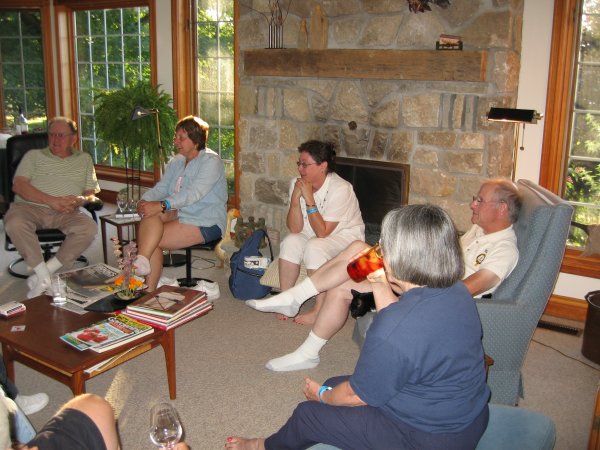 Friday Tattoo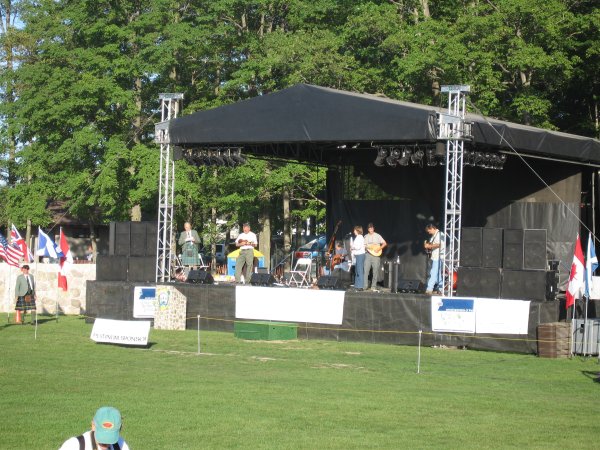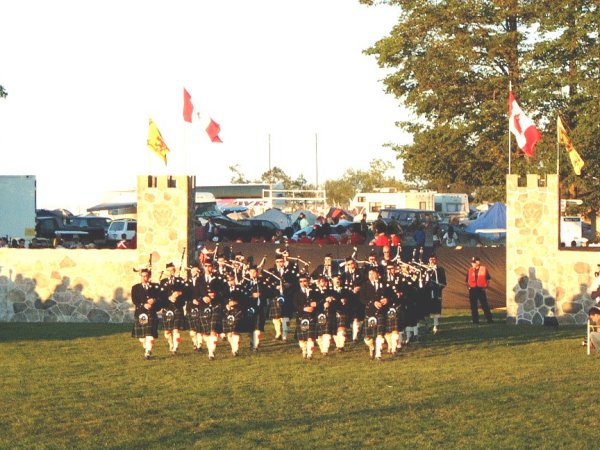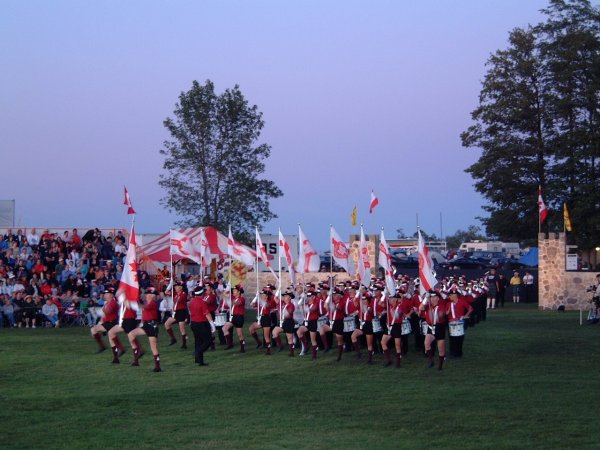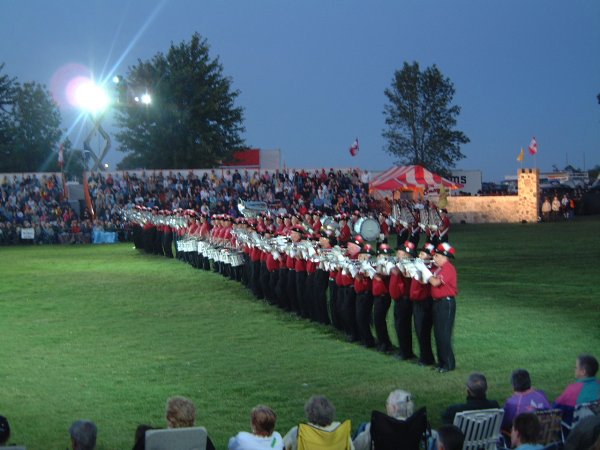 Henri's Notion from Alabama performed a mix of Celtic-American music in the twilight concert before the tattoo in their first visit to Canada. The Fergus Pipe Band took the traditional role of opening the tattoo at 8:00 PM. They were followed by the lively Preston House Scout Band. The two main featured bands were the 48th Highlanders and the Royal Regiment of Canada.
Here are a few wee snippets of videos as examples of the tattoo:
CLICK HERE
for the Royal Regiment of Canada.
CLICK HERE
for the Preston Scout House Band (BRIEF).
CLICK HERE
for the 48th Highlanders.
CLICK HERE
for the Royal Guards.
CLICK HERE
for Scottish Dancers.
CLICK HERE
for closing fireworks.
. . . and here are a couple of competitions from Saturday's events:
CLICK HERE
for a Pipe and Drum Band.
CLICK HERE
for Sword Dancers.
Along the Avenue of the Clans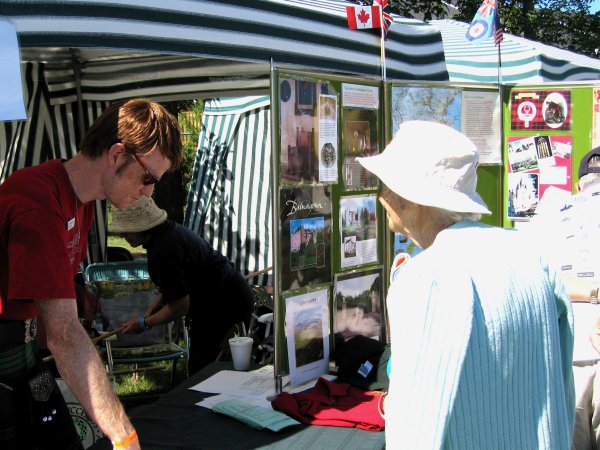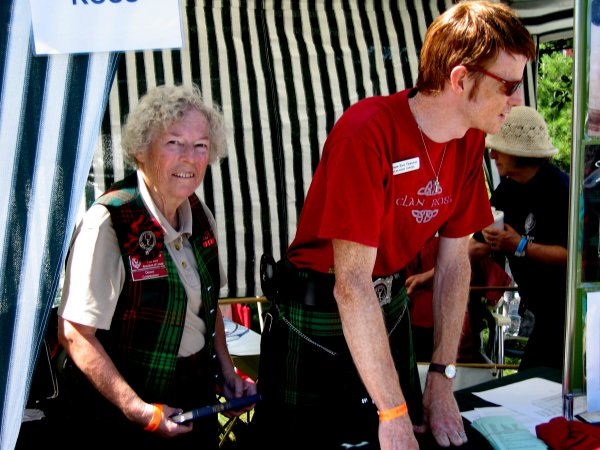 The Clan Ross tent was busy for most of Saturday Morning, as was the joined tent of the Hunter Clan to our East where Andy's wife Lizz and daughter Torry were able to visit back and forth. Wendy Ross, our dauntless Ontario Commissioner, had represented the Clan during August at Maxville and Montreal already, but managed to obtain a car for the Saturday jaunt to the Fergus event. Andy rewarded her with a red t-shirt from his clothing supplies. [Clan Hunter kindly transported some of her supplies, but Wendy brought along more in the car.]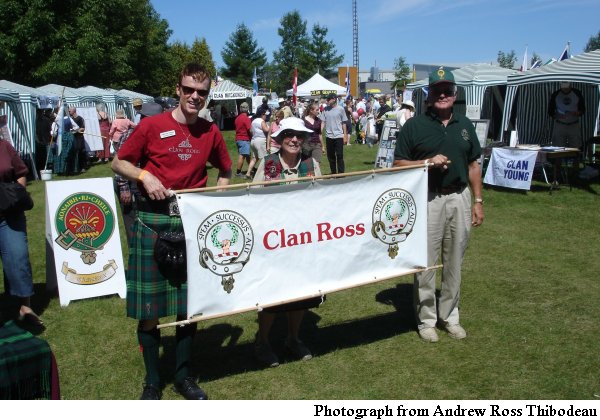 David and Daisy Ross arrived from Kincardine and David lined up Andy and Wendy at 11:30AM for the Opening Ceremonies on the Main Field at noon. Pat and I looked after the tent and enjoyed a lunch of barbequed spare-ribs which we had missed in 2005. Even Torry enjoyed a nibble . . . particularly of the boiled potatoes. In between munches, I attended to a young lady from Indiana who had connections similar to my own (Noble and Ross), and who was a member of Clan Ross USA. Business was slow during the noon hour.

Earlier, I had checked the Cameron Clan tent next to us to the West, and I noted that their president Jeanine MacDonald Avigdor, a fellow graduate of Old Vic and OCE, wasn't in attendance this year. After lunch, one of the members in charge of the tent came over with a young Air Cadet surnamed Anderson who was looking for information. I informed him about the Septs and their possible location on the map of Clan Ross. He was eager to check with his parents using our information pamphlet.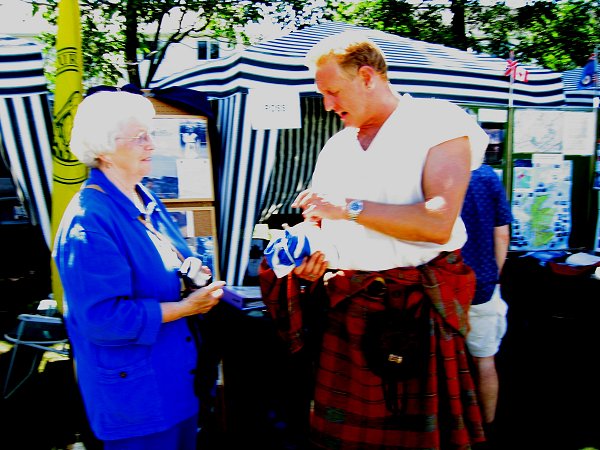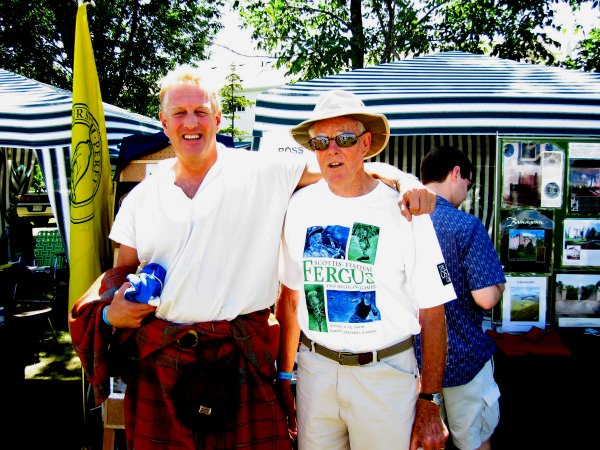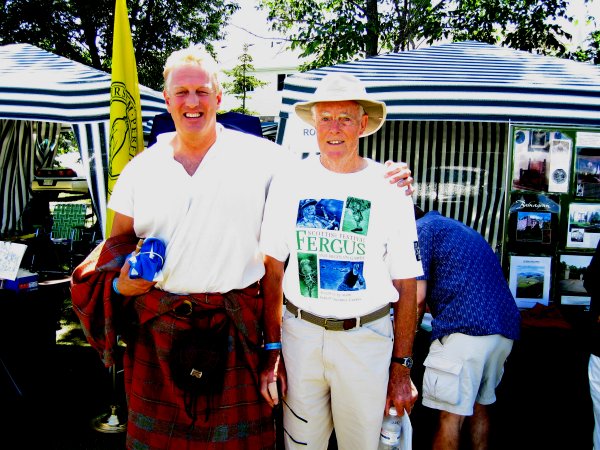 As usual, Clan Ross had been one of the last clans on the Main Field for the Opening Ceremonies, and was one of the last clans to leave the field. During this time, Alastair McIntyre (owner of the Electric Scotland website) visited our tent and came in for a chat. Shortly afterward, my cousin Lloyd Ross of Fergus found us at long last. [We had checked the Melville Church Lunch truck in the food section twice on Friday and once on Saturday morning.] I'm certain that we would have missed both of them if we had been on the field. [I would have missed my APO-Metformin medication for Type 2 Diabetes too.]

Before the remainder of our representatives returned, we were pleasantly surprised when the featured author David R Ross (recently knighted) walked over from the Genealogy and Education tent to visit the Clan Ross tent. David had completed his Walk for Wallace in 2005 and included a discussion about this mammoth undertaking in his talks. As noted in the first photo above, he welcomed questions from his fans. Before my cousin Lloyd left for his volunteer duties at the lunch trailer, I asked David to pose for a couple of pictures with him in front of the Clan Ross tent.
David R. Ross, Scottish Historian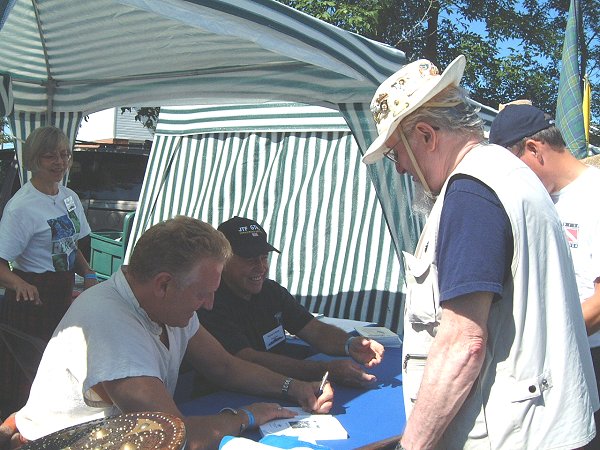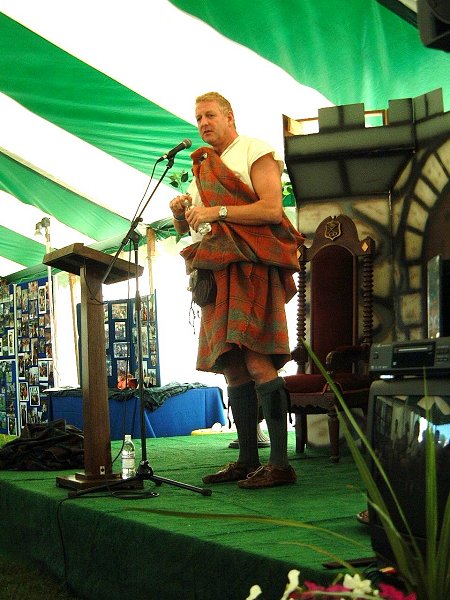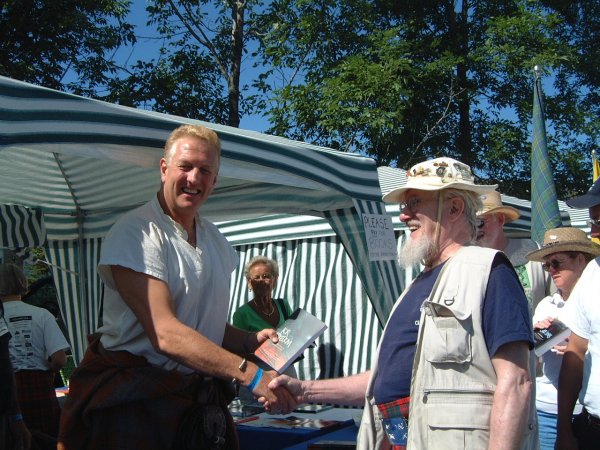 These final photos actually cover two days, Friday and Saturday. Before going to the Maplecrest Farm B&B, Pat & I decided that we would see David Ross after lunch at the Fergus Brewery Inn beside the Grand River. We recalled that there were large line-ups for the featured author in 2005, and they were even larger on Saturday. So Friday, from experience, was the better choice.

Since David's recent work, For Freedom, The Last Days of William Wallace was in transit and would not arrive until later that day, I purchased his On the Trail of William Wallace and On the Trail of Robert the Bruce to add to my collection of Scottish works. Then we took the opportunity to hear his talk in the Genealogy and Education tent, which was only four tents West of where the Clan Ross tent would be set up on Saturday.

On Saturday morning after checking the Clan Ross tent, I picked up a copy of David's current book and invited him to visit Clan Ross if and when he had a break. At least twice when I passed the Genealogy and Education tent that day, he was delivering a version of his most entertaining talk.